Who's Tamed Martial Superstar, Chuck Norris? Gena O'Kelley's Story
All your questions answered about Chuck Norris's Wife Gena O'Kelley: Ultimate Bio, Age, Marriage, Health Issue, Measurements and More!
Who is Gena O'Kelley?
Gena O'Kelley is the wife of the very famous action star and martial artist Carlos Ray "Chuck" Norris. Chuck, with black belts in Tang Soo Do, Brazilian jiu-jitsu, and judo, trained many Hollywood actors and even created his own discipline – Chun Kuk Do. As his career progressed, he took on roles in front of the camera, starring in numerous action movies, including Way of the Dragon in 1972, and Good Guys Wear Black, four years later.
Gena O'Kelley was born in sunny California in 1963 and grew up surrounded by her two sisters and one brother. There are no details about her mother, Anette O'Kelley Read, but her father, Alan Gordon O'Kelley worked as a security guard and sadly passed away in 2008.
Gena already had a successful modeling career, two children from her first marriage to Gordon Hinschberger, and just finished a role in a TV series when she met Chuck in 1997. The 23 year age gap didn't stop her meeting with the martial arts expert, neither did the fact that he was on a date with another woman! He pursued her, and according to his book Chuck Against the Odds, eventually, she agreed to fly to Dallas and allow their friendship to develop into love. The couple tied the knot the following year.
Gena went on to have a successful TV career and appeared in shows including Yes, Dear, Praise the Lord and Hannity, and in 2001, gave birth to twins Dakota Alan and Danilee Kelly. She is also a step-mom to Chuck's children from his first marriage to Dianne Holechek.
Gena O'Kelley's Photo Album
What happened to Gena O'Kelley and her health?
In 2013, Gena began to experience pain throughout her body, and consulted medical experts. After a barrage of tests, including MRIs, she was eventually diagnosed as having rheumatoid arthritis and given injections to alleviate the pain. However, after suffering from burning sensations and gaining second and third opinions, she believed she was misdiagnosed and was actually suffering from Gadolinium Deposition Disease.
A lawsuit was served against the first medical team, but Gena lost the case without any settlement being paid. Although she still experiences pains, Gena generally feels a lot better.
Where does Gena O'Kelley come from? 
Gena O'Kelley was born on August 10, 1963, in California in the United States, and is American.
Is Gena O'Kelley still married to Chuck Norris?
Gena has been married twice. Of her two marriages, the current one with the action star Chuck Norris has survived, and the couple appear to be incredibly happy.
View this post on Instagram
How tall is Gena O'Kelley and how much does she weigh?
Gena O'Kelley worked as a model, and so is quite tall at  5 feet 8 inches, weighing around 120 pounds or even less.
How many kids does Gena O'Kelley have?
Gena had two children with her former husband. Similarly, Chuck had two from his own previous marriage. Three years after their marriage, in 2001, Chuck and Gena had twins together.
Chuck and Gena with their twins, Dakota and Danielle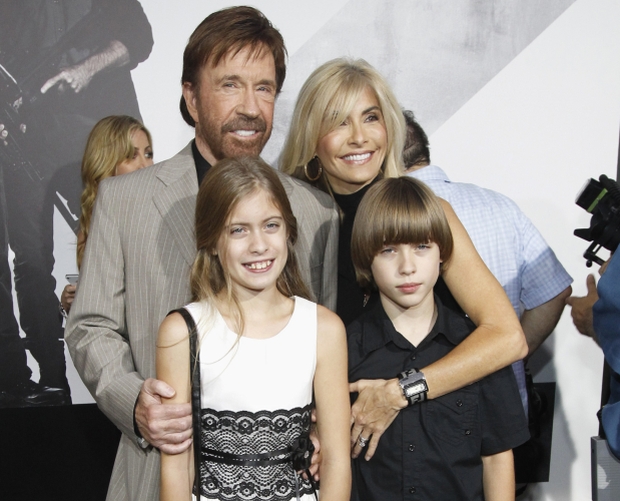 How old is Gena O'Kelley?
Gena is 59 this year. She was born in 1963, while her husband Chuck was born in 1940. This means that they have 23 years between them, although that doesn't appear to affect the love they share.
What is the net worth of Gena O'Kelley?
Chuck has an astronomical net worth of $70 million, which Gena is conjugally entitled to share.
There are no details of Gena O'Kelley's personal net worth however, but she has enjoyed several successful careers – as a model and actress and has proved to be an astute businesswoman. She owns real estate businesses, gyms, and even a large bottling plant with her husband.
Gena and Chuck meeting people in NRA annual meeting
Are you looking for more?
If you are looking to get in touch with Gena O'Kelley, or perhaps you are looking for more top gossip and scandal, drop us a line and we will search our archives for you.