Discovering Sylvester Stallone's Sons: Sage and Seargeoh Stallone
Discover who Sylvester Stallone's sons are. Know about Sage Stallone's acting career and tragic death, and Seargeoh Stallone's life with autism.
Who Are Sylvester Stallone's Sons?
Sylvester Stallone, the man who brought us Rocky and Rambo, has two sons – Sage Moonblood Stallone and Seargeoh Stallone. And no, they're not named after any of his movie characters.
Let's start with the eldest, Sage. He made his acting debut alongside his dad in Rocky V and went on to star in a bunch of other films like Daylight and The Manson Family. Sadly, Sage passed away in 2012 due to atherosclerosis, which is just a fancy way of saying too much junk food.
Sage's younger brother, Seargeoh, also tried his hand at acting but had to put his career on hold due to autism. He now lives with his dad in their fancy mansion in La Quinta, CA.
Check out this adorable family photo of Sylvester, his first wife Sasha Czack, and their two sons.
How old are Sylvester Stallone's sons?
Sage was born on May 5, 1976, and died on July 13, 2012. He was 36 years old at the time of his death. Seargeoh was born in 1979. His exact birthday is unknown but he is about 44 years old.
Does Sylvester Stallone have any other children?
Yes, apart from Sage and Seargeoh, Sylvester Stallone has 3 daughters. Their names are Sistine, Scarlett Rose, and Sofia Rose.
Sylvester Stallone with his wife Jennifer Flavin and three daughters
What nationality are Sylvester Stallone's sons?
Sage and Seargeoh are both American.
How did Sylvester Stallone's son, Sage, die?
According to the autopsy and toxicology tests, Sage died due to coronary artery disease caused by atherosclerosis. It was classified as a natural death by the coroner. The report maintained that there were no drugs found in Sage's body at the time of death apart from a small amount of prescription painkiller, hydrocodone. Stallone has since opened up about the death of his son being "very, very tough" and a massive tragedy for the family.
Short biography of Sylvester Stallone's son, Sage Stallone
What is Sylvester Stallone's sons' net worth?
The estimated net worth of Sage at the time of his death was $200k. As for Seargeoh, his net worth is now estimated at $1 million.
Are Sylvester Stallone's sons married or single?
Before his death, Sage married Starlin Wright in 2007. But a year into their marriage, they filed for an annulment. Seargeoh's relationship status, on the other hand, is unknown to the public.
Sage Stallone pictured beside his wife at the time, Starlin Wright, and father in 2007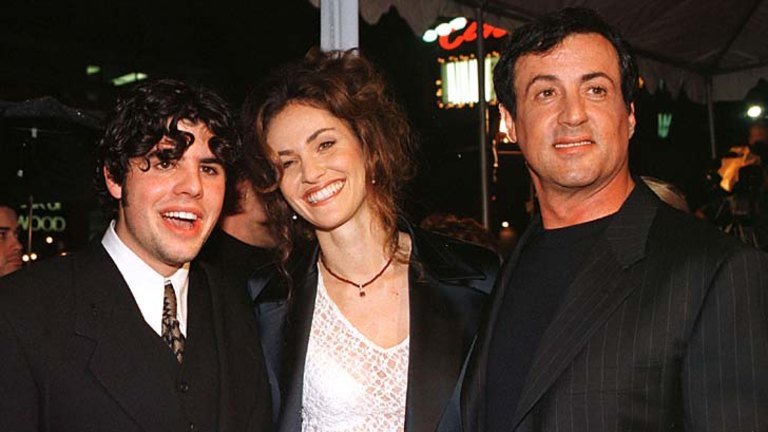 What do Sylvester Stallone's sons do for a living?
Sage was an actor, director, producer, and screenwriter while Seargeoh is an actor and director.
Sage and Seargeoh Stallone Photo Gallery
Check out Stallone's last tweets:
Sylvester Stallone's Twitter feed