William Shatner: Iconic Actor, Director, and Singer of 7 Decades, Best Known for Captain Kirk in Star Trek.
Uncover the legendary William Shatner, an American-Canadian actor, director, producer, screenwriter, and singer. Best known for his role as Captain James Kirk in Star Trek.
William Shatner: The Man, The Myth, The Legend
William Shatner is a true Renaissance man. He's an American-Canadian actor, director, producer, screenwriter, and singer. Basically, he's done it all. He's been a fixture in the entertainment industry for over seven decades, and he's still going strong. But let's be real, he'll always be best known for his iconic portrayal of Captain James T. Kirk on the USS Enterprise for the Star Trek franchise.
Back in 1952, William Shatner graduated from McGill University. He then went on to train as a classical Shakespearean actor in Ottawa's Canadian National Repertory Theatre. He even performed at the legendary Stratford Shakespeare Festival in Ontario in 1954. But it wasn't until he boldly went where no man had gone before that he became a household name. From 1966 to 1969, he held the role of Captain Kirk on Star Trek: The Original Series.
Since then, he's starred in countless TV shows and films. Some of his notable film roles include Oedipus The King, Miss Congeniality, American Psycho 2, and Over the Hedge. On the small screen, he's made guest appearances, had regular stints, and even hosted a few shows. You may have seen him on Rescue 911, TekWar, Boston Legal, The Big Bang Theory, or Murdoch Mysteries.
So, let's raise a glass to William Shatner, the man who boldly went where no man had gone before and continues to entertain us to this day. Live long and prosper, my friend.
What's new with William Shatner?
In 2021, William Shatner made history by becoming the oldest person ever to travel to space. On October 13, 2021, he flew aboard Blue Origin's New Shepard spacecraft, alongside three other passengers. The flight lasted approximately 10 minutes, during which Shatner and the other passengers experienced weightlessness and saw the curvature of the Earth. The event was widely covered by the media and generated a lot of public interest.
Aside from his spaceflight, Shatner also continued to be active in his acting career. He had a guest-starring role on the TV series "The UnXplained with William Shatner" and released a new album, "Bill". Shatner has also been involved in philanthropic work, including his support of animal rights and his involvement in various charities.
William Shatner's unforgettable performance of Elton John's "Rocket Man"
How old is William Shatner?
William Shatner is 92 years old. He was born on March 22, 1931, making him an Aries.
What nationality is William Shatner?
William Shatner is of Canadian nationality.
What is William Shatner most famous for?
William Shatner is famous for his role as Captain Kirk in the original Star Trek TV series.
William Shatner with the cast of Star Trek
How much does William Shatner weigh?
William Shatner weighs 85 kg or 187 lbs.
In 2006, William Shatner sold which item on eBay for $25,000?
William Shatner sold his kidney stone on eBay for $25,000. The item was purchased by Goldenpalace.com via a winning bid and it was one of the strangest items sold on eBay.
William Shatner shows off artwork of his two dogs
View this post on Instagram
Is William Shatner married or single?
William Shatner is currently single. He had four previous marriages with the latest ending up in divorce in 2019 when he divorced his wife of 18 years, Elizabeth Shatner. The divorce went pretty easily for William, as the couple had signed a prenuptial agreement. He got away with his $100 million intact.
Does William Shatner have his own children?
Yes. William Shatner has three children, all of whom are daughters. Their names are Lisabeth, Melanie and Leslie.
William Shatner with his wife, Gloria Rand and their three daughters in 1967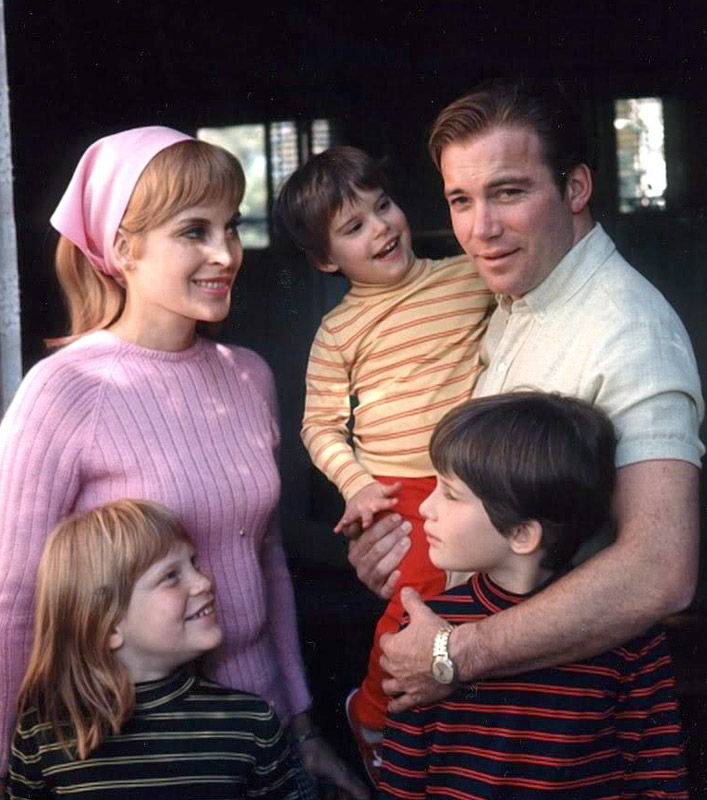 What are William Shatner's hobbies?
William Shatner has always been passionate about his craft in acting. But if he isn't acting, he likes to play tennis, go horseback riding, and breed horses.
What is William Shatner's net worth?
As of 2019, William Shatner has an estimated net worth of $150 Million.
The Best Of William Shatner
What is William Shatner Tweeting about?